For years we've heard people refer to our beloved Twin Navion as an oddball airplane dozens, if not hundreds of times. Of course we know this isn't true - just because an airplane wasn't made by Cessna, Piper or Beechcraft doesn't make it an oddball. Through the years, we've discovered a number of post-war light planes that really live up to the oddball name.
Bay Super-V
(1955-1963)
From "Canadian Aircraft since 1909":

During 1962-63 a Canadian company, Fleet Aircraft of Fort Erie, Ontario, was invoved in the conversion and modification of the Beech Bonanza into a light twin-engined aircraft called the Super-V. Only five of the conversions were built in Canada and all, by prior arrangement with the FAA, were sold to owners in the USA, where the project had been initiated. At the end of 1963 lack of sales caused Fleet to sell their rights to a US company, Mitchell Aircraft of Savannah, Ga. By that time fourteen Super-Vs had been made, including two rebuilds, and twelve were still flying.

The conversion plan was originated by Dave Peterson, chief pilot for an oil company, with design and engineering work starting in 1955 by the Peterson Skyline Manufacturing Co of Tulsa, Oklahoma. Bay Aviation Services, formerly Oakland Airmotive, obtained the rights in 1959; actually conversions were begun and FAA type certification was obtained in 1960; a regional distributorship for sales and conversion was set up. To help sales, a Pan American World Airways pilot, 'Chuck' Banfe, flew a Super-V round the world, to and from Honolulu, between 15 and 24 October, 1960, covering some 21,000 miles (33,800 km) in 212 hours. This aircraft (originally c/n SV 101) was later rebuilt by Fleet as SV 116 and became the company's demonstrator.

Arrangements had been made in 1961 to move the basic conversion programme to Fort Erie, where work was started in January 1962. Several modifications and design improvements were made by Fleet, including new engine cowls for the Lycoming O-360-A1A engines which had replaced the A1B fuel-injection engines previously used; a nose-cone for a landing light; better soundproofing; an improved entry door; and a revised instrument panel. Canadian certification was also obtained.

Although the structural details of the original Super-V were generally similar to those of the Bonanza, the modifications were extensive enough to require recertification as a new aircraft. The wings and fuselage were similar, but greatly strengthened, and engine mountings had to be designed for the wing. A glass-fibre fairing covered the nose, where the additional capacity was used for baggage. The leading edges of each wing were sealed to provide integral tanks for 30 US gal (114 litres), giving a total fuel capacity of 100 US gal (378 litres).

The five new Super-Vs built by Fleet in Canada were: SV 112 (N249C), SV 113 (N551B), SV 114 (N4559V), SV 115 (N1T) and SV 117 (N457B). The respective c/ns of the Bonanzas used for these conversions were D-1243, 1569, 1388, 422 and 1474. SV 110 and 111 were not built, and two SV 102 and 103, had by the end of 1963 been destroyed.

Two Lycoming O-360-A1A. Span 32ft 10in (10m); length 25ft 1in (7.65m); height 7ft 1in (2.16m). Empty weight 2,200lb (998kg); maximum take-off and landing weight 3,400lb (1,542kg). Maximum speed 210 mph (338 km/h); maximum cruising speed 190 mph (306 km/h); stalling speed 68 mph (109 km/h); climb at sea level, 1,550 ft/min (373 m/min); service ceiling 20,000 ft (6,100 m); single-engined service ceiling 7,000 ft (2,130 m); range with maximu8m fuel using 50 percent power, 1,200 miles (1,930 km).

Budd Davisson's Super-V pilot report.


N3124V in the Beechcraft Heritage Museum.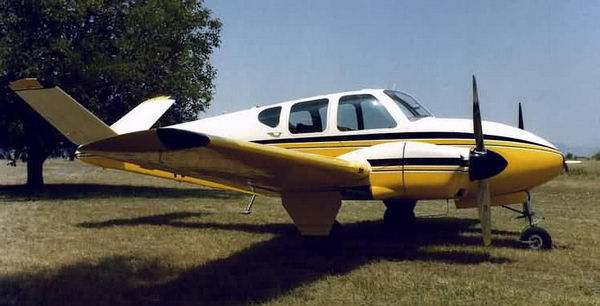 (unknown)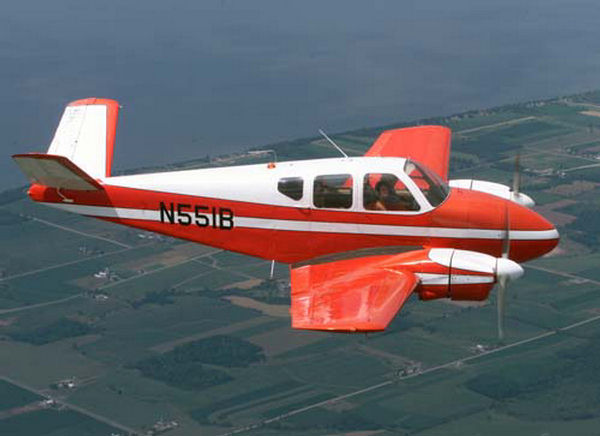 (unknown)

Twin Ercoupe
(unknown)
The comment we found for this aircraft stated that it had been converted specifically for airshow work. A comment on a website states that the "Twin 'Coupe" was built by Grady Thrasher for use in the "Thrasher Brother's Air Show" in 1946. He continued to say it was used until Grady retired from airshow flying for the US Army in 1950. According to this source, the Twin Ercoupe was sold to a dealer in Ercoupe dealer in Columbus, Georgia who scavenged it for parts.

A search of the FAA registration database says that NX93384 was a 1946 Ercoupe 415-C, s/n 707. The last registered owner was Elbert Elms of Collinsville, IL.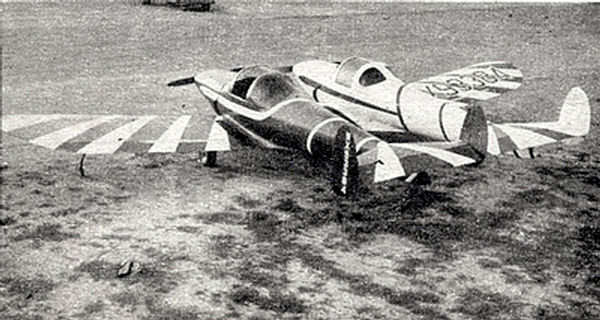 (unknown)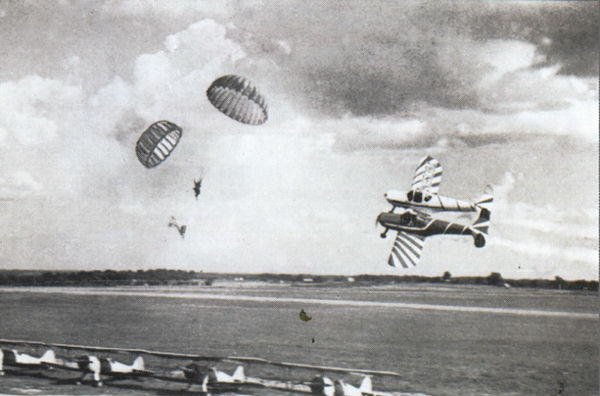 Seen performing as part of "The American Flag Parachute Jump." (unknown)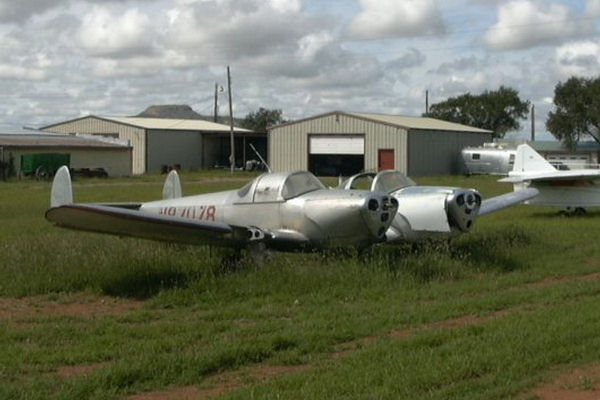 Discovered in 2007, another Twin Ercoupe, marked as N87078, was spotted off I-40, in Tucumcari, NM.
(Zane Adams)

Mooney Mark 22
(1958)
In 1958 Al Mooney designed the only two-engined Mooney, which he based on the Mark 20. Called the Mark 22, it never entered production and the prototype was eventually scrapped. When the second Mark 22 entered production in 1966, it was a pressurized single called the 'Mustang.' Only 30 of those were built.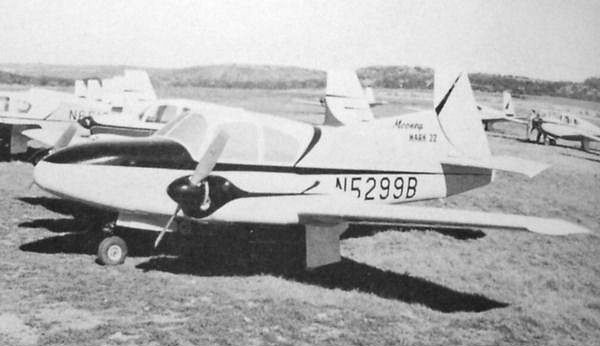 (via Mooneyland.com)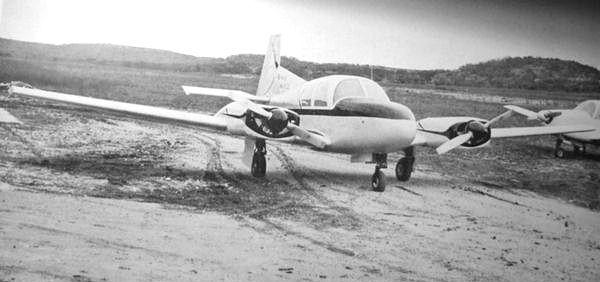 (via Mooneyland.com)



(via Mooneyland.com)



It actually flew. (via Mooneyland.com)

STOL UC-1 Twin Bee
(1958)
From Steiner Saevdal's site:

The UC-1 Twin Bee is a twin-engine five-seat conversion of the Republic RC-3 Seabee amphibian. The conversion was developed by Mr. Joseph W. Gigante of United Consultant Corporation 1959 -1965. His company later was known as STOL Aircraft Corporation of Norwood, Massachusetts. Prototype and conversions were built in the old hangars of Helio Aircraft at Norwood Airport, MA.

In her original configuration, the prototype had two 180 hp Lycoming O-360-A1A engines, and made her first flight in 1960 with a Helio test pilot at controls. Later most test flights were made by test pilot Peter Annis. During development, engine model was changes to injection type, the cowlings were redesigned and the tail control surface areas were increased.

After extensive flight tests for five years, the UC-1 Twin Bee was awarded the US FAR Aircraft Type Certificate No: A6EA on 25 June 1965. The first production aircraft was delivered one year later.

Conversion is accomplished by replacing the Seabee's original 215 hp Franklin engine by two 180 hp Lycoming IO-360-B1D engines, driving 2-blade CS/feathering tractor propellors. The original wing span is increased by 6 ft, to 43.33 ft, by adding a 3-foot wing-root extension on each side. The hull is stretched 3 ft by inserting a "plug" just aft of cabin, to counter-act shift of CG. Further the rudder/trim-tab area is increased according to the increased power. The fuel capacity is increased from 75 US gal to 101 US gal by the addition of a new 85 US gal main fuel tank above step and 16 US gal fuel tank in the tail boom. The instrument panel, and the seat tracks, are moved forward to allow a fifth seat in the original cargo area. To date 23 conversions have been completed, the last one in 1987.

Steinar Saevdal's STOL UC-1 Twinbee page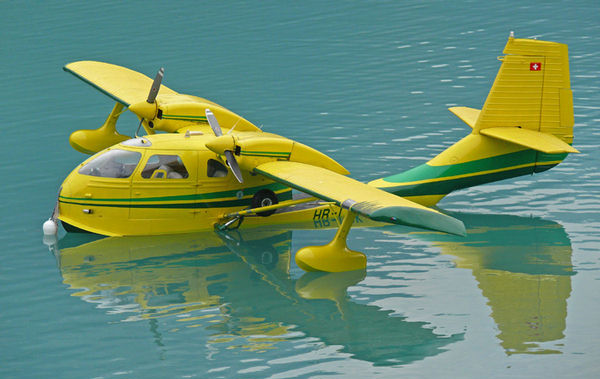 (M. Sieber via S. Saevdal)

Harold Wagner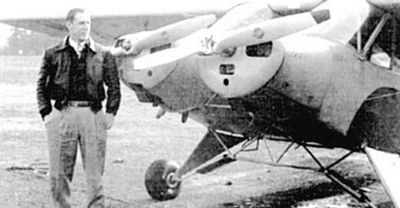 (www.fiddlersgreen.net)
From www.fiddlersgreen.net:

The Twin Cub was the brainchild of Mr. Harold Wagner of the Wagner Aircraft Co. at Troh's Skyport, Portland, Oregon. He wanted to create a simple and cheap twin engined SUV type aircraft and started experimenting with a PA18 Super Cub which he equipped with a second engine on top of the fuselage. The sports utility aircraft made its first flight on May 29, 1952 but tail flutter caused by the downthrust of the extra powerplant meant that the Twin Super Cub project had to be ended prematurely after only 8 hrs of flight time, after which the Super Cub was returned to stock configuration.

Mr Wagner's second attempt produced an even uglier machine, called the Twin Cub. It consisted of a J-3 Cub and a PA-11 Cub Coupe fuselage mounted side-by-side using a small wing center section and central tailplane. The outer wing panels and tailplane were standard components. The resulting aircraft looked so odd that even Mr.Wagner called it "The Thing". Because of the close proximity of the fuselages, only the righthand one could be occupied by a pilot and passenger, the lefthand fuselage serving only the purpose of engine mounting. No propeller synchronizing was envisaged, the props rotating in different planes instead, to prevent hitting each other. This was accomplished by a 'distance piece' on the lefthand engine/prop combination. It is claimed that flight qualities were just great, even with one engine out. One wonders, however, with all that propwash interference.

Even though the purchase price was said to be about half of a regular twin engined aircraft, the Twin Cub remained a one-off and Mr. Wagner turned his attention to the Twin Tri-Pacer, where he bolted two engines to the nose of an otherwise standard Piper PA-22 Tri-Pacer.

None of the Wagner conversions achieved commercial success and both the Twin Cub and Twin Tri-Pacer returned to standard configuration.

Wagner Twin Super Cub
(1952)
Wagner Twin Cub
(1952)
The comments we found for this aircraft read:

Assembled from a J-3 and PA-11, the Twin Cub certainly looked like a cobbled together experiment.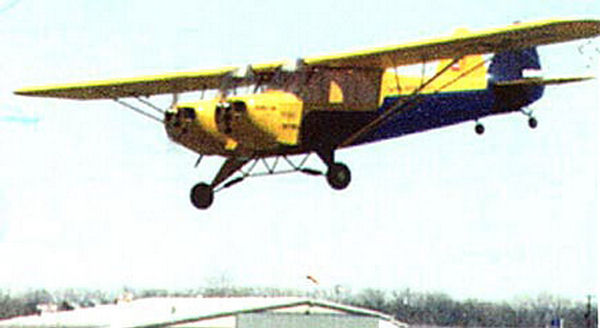 (www.fiddlersgreen.net)



(www.fiddlersgreen.net)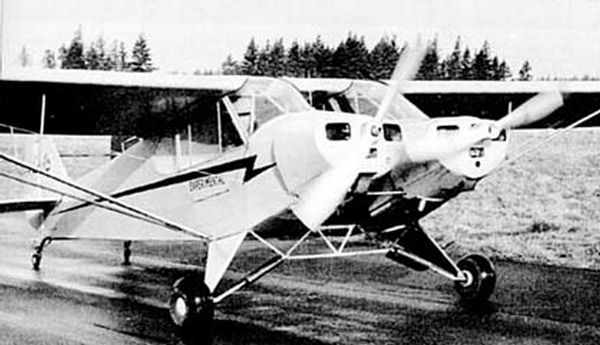 (www.fiddlersgreen.net)



(www.fiddlersgreen.net)

Wagner Twin Tri-Pacer
(1952)
The comments we found for this aircraft read:

"Tri-Pacer converted to [a] twin by Harold Wagner, 1952. Powered by two Lycomings, 125=hp each. Flew it about 100 hrs then built it back to single engine and sold it. Too much CAA red tape."

A search of the FAA registry database reveals that N932A was still registered to David McClain of Portland, OR in 1980. Interestingly, although the registry calls it a PA-22 Tri-Pacer, the name painted on the side (while it was a twin) called it a Pacer 125.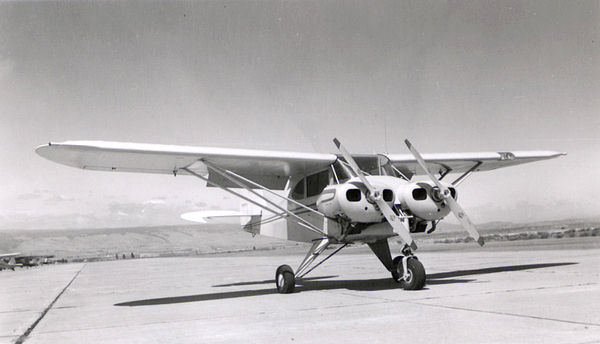 (Collect-Air Photos via K. McTavish)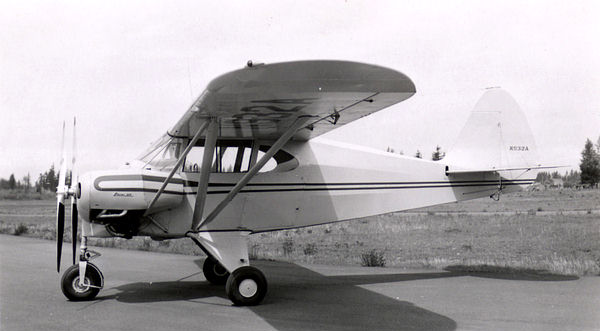 Note the extension on the port crankshaft, that provided clearnance for the starboard propeller.
(Collect-Air Photos via K. McTavish)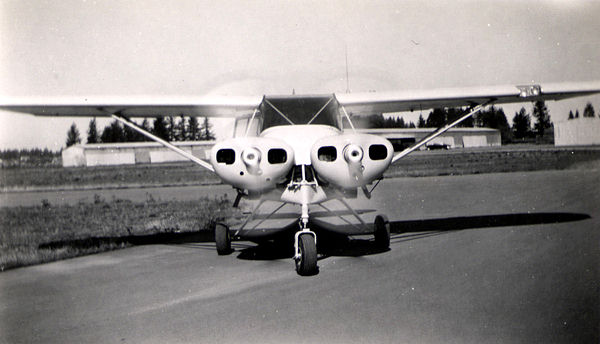 (Collect-Air Photos via K. McTavish)